A new website within weeks for Rose Theatre
A fully functional website within just a few weeks: that was the desire of Rose Theatre, the largest producing theatre in South West London. An ambitious assignment we were more than happy to take on. This was also our first post-merger project with the After Digital team, and our first-ever Spektrix integration.
Key takeaways
A Peppered website works out of the box and can be set up quickly.
We provide a seamless connection to various other providers, such as your ticketing and planning tools.
Introduction of Spektrix integration, fortifying Peppered's already robust API capabilities.
First After Digital collaboration post-merger, blending powerful arts marketing technologies with design strategy and finesse.
Rose Theatre
Located near Kingston's idyllic riverside, Rose Theatre entertains audiences, elevates artists, and empowers its community with a wide range of programming and events, offering  a diverse range of plays to suit just about any theatre fan's tastes. Giving the audience a closer-up view of its productions, this character-filled theatre boasts a 'thrust stage' inspired by the design of Elizabethan Rose Theatre in Bankside, where the plays of Shakespeare and Christopher Marlowe were once performed.
Rose Theatre's team was only until recently looking for a new website. They decided to go with Peppered's CMS and trusted our team from After Digital with the creation of a new design.
"Swift and effectual with a supportive, structured process. After Digital/Peppered took to heart our ambitions and objectives and have guided us towards a much more unified user experience and customer journey. Their CMS is magnificent; shaving hours off our day with time-saving integrations and allowing us to take a much more hands-on approach to managing content on our site. Just brilliant… They also have a wicked sense of humour!"
Set up quickly
Setting up a new website doesn't need to be a lengthy process. Rose Theatre needed a better CMS and wanted to switch to our platform as soon as possible. No sooner said than done: based on their previous site's design, we were able to deliver them a Peppered website within a matter of weeks.
Wondering how we manage to do that so quickly? It's because we do not 'build' you a new website: it already exists. Peppered is a SaaS (Software as a Service) CMS. Meaning that every site is built on the same solid infrastructure. All the building blocks for Rose Theatre's new site were already there. The theatre's style has then been applied across all the building blocks, creating a robust site with its own look and feel.
We think websites shouldn't just be custom at the point of conception. Instead, adopt a singular flexible platform that allows you to manipulate your website as and when you need to, always. This way, we produce websites that are consistent, customisable and on-brand.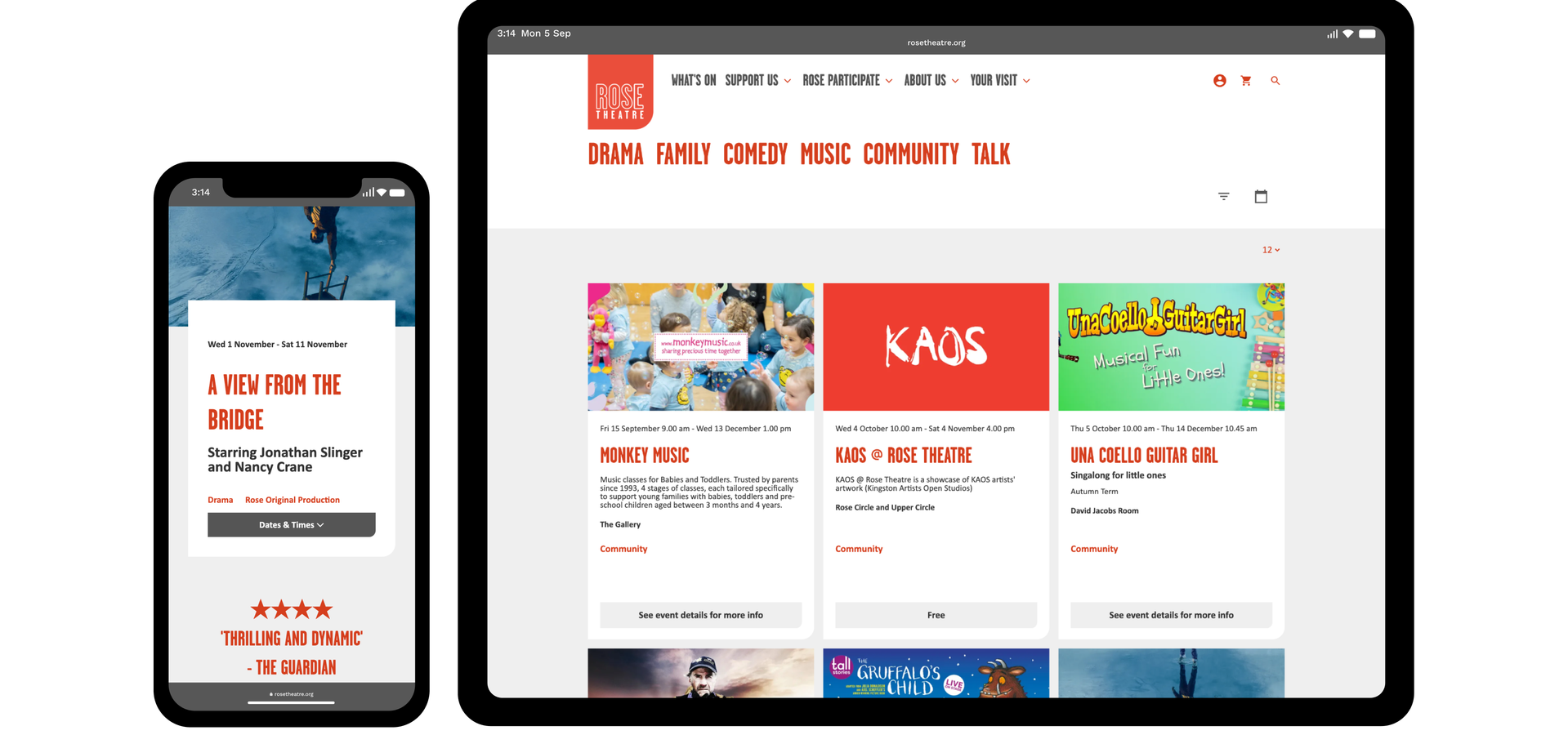 New design and integrations
Whilst our software works out of the box, our approach to requirements gathering and creating a bespoke design doesn't. Rose Theatre already enjoys the benefits of our sustainable and user friendly CMS, but more is coming their way soon.
Based on the data and insights we're developing from the direct port to the new platform and a workshop we'll be organising with the Rose's key stakeholders, we'll be creating a a strategic vision for Rose Theatre's content and user journeys, helping to optimise ticket conversions and donations. The theatre's brand new design by After Digital will go live at the beginning of 2024, bringing their brand even more to life online.
In addition to a new design, their CMS will have a Yesplan connection. This makes sure that all available event data will be automatically put in Peppered and kept up to date. Besides, we're realising a seamless integration with Spektrix: Rose Theatre's choice for a ticketing, marketing, and fundraising CRM solution. Our API connects to most major ticketing and payment providers, planning tools, CRMs and ad platforms. Now that we've added Spektrix to our portfolio as well, Peppered fits into almost all existing technology stacks for arts, culture and entertainment organisations.